Lake Weed Control - Silver Mist Eco Harvester
Aquatic Plant Harvester Info & Specifications
The Eco- Harvester is your aquatic weed solution!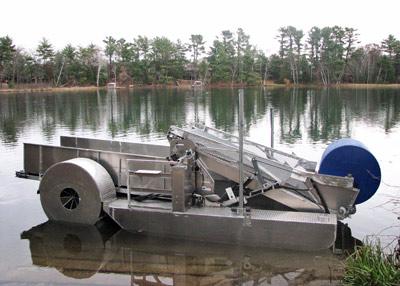 Whether it's pulling, cutting, or skimming, lake weeds don't have a chance with the Eco-Harvester! Its shallow water abilities can reach weeds that other weed harvesters can't get to. The specially designed intake system is highly effective at weed pulling and extraction. Floating weed mats don't stand a chance either - the Eco- Harvester easily skims surface debris and pulls it up into the bunk, which holds a generous 4 cubic yards of weeds. When it's full, just head for the shore where our patented rotational conveyor technology will self-unload the weeds into a truck, trailer or onto shore.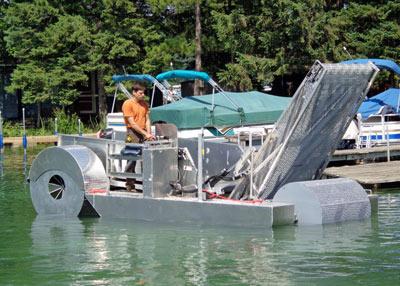 Easily transportable with our customized Karavan trailers, this becomes a one-person operation from start to finish. Unlike a traditional propeller, our dual paddle wheel system won't get tangled in the weeds but still offers optimum maneuverability in the water.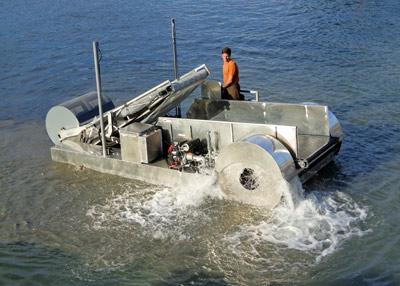 We build our harvesters out of internationally available components. This means that repair and replacement parts are easily obtainable. We pride ourselves on using only the highest quality parts and materials in every Harvester!
Specifications
Dimensions:
Overall
8'6" wide x 19' long
Weed Bunk Size
4' 3" wide x 11' long x 2.5' deep
Weed Bunk Volume
4 Cubic yards
Engine:
Fule Capacity
10.3 Gallons
Hydraulics:
Operating Pressures
1200 PSI
Propulsion:
Type
Dual Independent Paddle Wheels